Add New Lab Deatails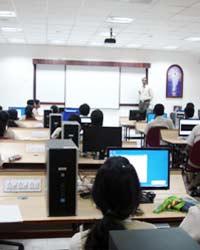 CAD-CAM LAB
Faculty in Charge: Prof. M.Elangovan
Tech Staff: Mr.R. Rajasekar, Mr.M.Ravikumar
Ext.No.5538
The CAD-CAM Laboratory has the following Softwares & Hardware.
Software
I-DEAS 10NX, CATIA V5R14, Pro/ENGINEER Creo 5.0, Unigraphics NX, Autodesk Inventor SERIES Auto CAD R14, VERICUT 4.1, ANSYS 13.0, Fluent 6.3, GAMBIT, MoldFlow 3.0, ARENA 11.0, Poly Flow 11.0, Paulsons CBT, Edge cam R2012, ABAQUS, LS-DYNA, Hyper Works 7.0, Solid Edge V19, Mechanical Desktop 6.0.
Hardware
HP Intel CORE i5, 3.1 GHz, 4GB RAM.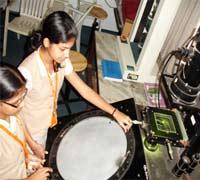 METROLOGY LAB
Faculty in Charge: Mr.M. Saimurugan
Tech Staff: Mr.P. Radhakrishnan
Ext. No. 5541
Metrology Laboratory is well equipped with latest equipments like Surftest & Accessories, Digimatic Mini processor, Micro Hardness tester, Auto Collimator, Electronic & Pneumatic Comparators, Profile Projector, Digital Height Master, Floating Carriage Micrometer, Tool Makers Microscope, Gear Rolling Tester, Vision System, Slip Gauge set (Mitutoyo Grade O)
METALLURGY LAB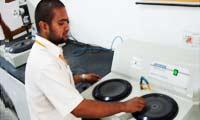 Faculty in Charge: Mr.R. Padmanabhan Tech Staff: Mr.P. Masilamani
Ext. No. 5530
The Laboratory is equipped with Tinius Olson UK make UTM, friction and wear monitor, Zeiss inverted metallurgical research microscope, Optical metallurgical microscopes, Heat treatment and Jomini Hardenability test set up, foundry sand testing facilities etc.
METAL FORMING LAB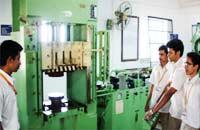 Faculty in Charge: Mr.A. Sumesh
Tech Staff: Mr.Sundararaman
Ext. No. 5530
Metal forming lab is equipped with 50 Ton Mechanical Press, 50Ton Hydraulic Press, Press tools and Erichisen cup Tester.
SPECIAL MACHINES LAB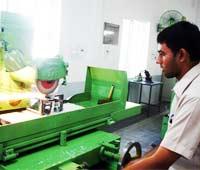 Faculty in Charge: Mr.P. Krishnakumar
Tech Staff: Mr.Dayalan
Ext. No. 5535
Special Machines Laboratory is well equipped with CNC Vertical machining center, CNC Trainer (Star Mill, Turn Mill), gear hobbing machine, universal milling machine, vertical milling machine, pantograph engraving machine, tool and cutter grinder, cylindrical grinding machine, surface grinding machine centreless grinding machine, shaper, slotting machine, planning machine and radial drilling machine.
LATHE SHOP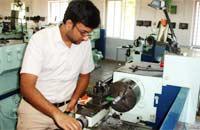 Faculty in Charge: Mr.P. Krishnakumar
Tech Staff: Mr.T. Chandramohan
Ext. No. 5536
Lathe workshop equipped with centre lathes, capstan lathes, power hacksaw, tool grinders, lathe accessories and attachments
AUTOMATION LAB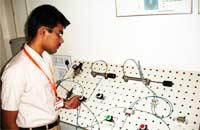 Faculty in Charge: Mr.Sanjivi Arul
Tech Staff: Mr.R. Balaji
Ext. No. 5532
Fluid Power Laboratory has basic pneumatic trainer kits, Electro-pneumatic trainer kits (from SMC, Japan) Hydraulic trainer kit, PLC, Automation Studio (circuit design software from Famic Technologies) and 5 axis Robot (IR52C).
FLUID MECHANICS & FLUID MACHINERY LAB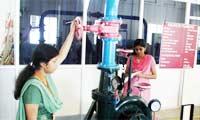 Faculty in Charge: Mr.K. Balaji
Tech Staff: Mr.M. Girish Kaimal
Ext. No. 5533
The Fluid Mechanics Laboratory has complete experimental setups to demonstrate the basic laws of hydraulics and flow measuring devices. Similarly, the Fluid Power Laboratory has impulse and reaction turbines, reciprocating, gear and centrifugal pumps with required test rigs to study the performance characteristics.
THERMAL ENGINEERING LAB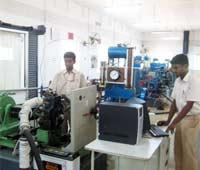 Faculty in Charge: Dr. S. Thirumalini
Tech Staff: Mr.Kannapiran
Ext. No. 5534
The Thermal Engineering Laboratory is equipped with test setups for different types of heat engines, air compressors, blowers, and an advanced technology steam boiler, turbine and condenser. Facilities are available for testing fuel and lubricants and also analysis of exhaust gases. Other test facilities cover refrigeration and air conditioning, low-speed wind tunnel etc. The laboratory also houses an online test facilities for IC engines with eddy current dynamometer along with the required instrumentation for in cylinder pressure measurement.
HEAT AND MASS TRANSFER LAB
Faculty in Charge: Dr. S. Thirumalini
Tech Staff: Mr.Kannapiran
Ext. No. 5534
A Heat and Mass Transfer Laboratory has been established with necessary testing equipments to study Conduction, Convection, Radiation and mixed modes of heat transfer in fins and heat exchangers, drop wise and film wise condensation. Steam generator apparatus and single effect evaporator apparatus are also available in the laboratory.
INSTRUMENTATION LAB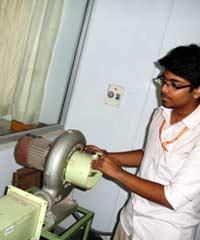 Faculty in Charge: Mr.S. Ravikumar
Tech Staff: Mr.Velmurugan
Ext. No. 5539
The Instrumentation Laboratory exposes the students to sophisticated instruments, which form part of the modern quality-conscious industry. The Laboratory trains the students in precision measurements and calibration. The Laboratory is equipped with pressure and vacuum gauges, thermocouples, stroboscopes, load cell, proving ring, strain gauges, LVDTs etc. It has latest data acquisition cards from NI for temperature, force, vibration measurements visusal system for visual inspection.It also equipped with Lego Mindstorm Kit for studying various sensors and robot programming. Labview software is used to acquire signals from various DAQ's and processing. The laboratory has a flow control valve to control the flow rate to a pneumatic cylinder and it is controlled by Labview software.
MACHINE DYNAMICS LAB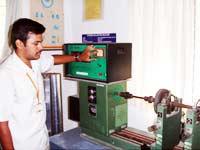 Faculty in Charge: Mr.S. Saravana Murugan
Tech Staff: Mr.M. Velmurugan
Ext. No. 5539
Machine Dynamics Laboratory is well equipped with dynamic balancing machine for balancing automobile wheels and centrifugal pump impeller etc., FFT analyzer for vibration analysis, composite filament winding machine for fabrication of composite shafts and pipes. It also has experimental setups for cam profile measurement, gyroscope effect, whirling of shaft, natural and forces vibration etc.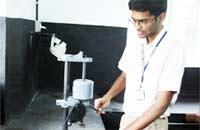 FOUNDRY SHOP
Faculty in Charge: Mr.D. Senthil kumar
Tech Staff: Mr.M Sundara raj
Ext. No. 5531
Foundry lab is equipped with sand testing apparatus and electric furnace. The foundry shop has multiple sets of patterns, different types of core boxes and allied tools to give hands on experience to students individually. The lab is effectively used for various activities includes teaching, training, research and project work.
WELDING SHOP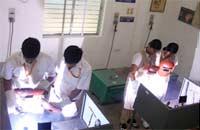 Faculty in Charge: Mr.P. Raghuram
Tech Staff: Mr.R. Senthil kumar
Ext. No. 5540
The welding shop has both arc welding and gas welding, which are very commonly used in industries.
CARPENTRY SHOP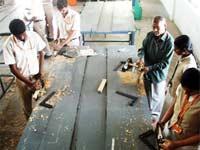 Faculty in Charge: Mr.N Tamilarasan
Tech Staff: Mr.C. Rajan
Ext. No. 5537
The carpentry shops are meant for skill development programme. It develops the skill level of the student by going through a set of exercises with wood. They are also equipped to provide individual workbench to students.
SHEET METAL FABRICATION SHOP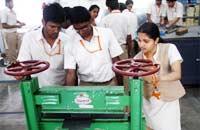 Faculty in Charge: Mr.A.S. Prakash
Tech Staff: Mr.I. Rajamanickam
Ext. No. 5531
Sheet metal shops help to develop the skill of the students in fabrication methods by going through a set of exercises on different types of metal and alloys. The labs are well equipped with latest technologies
PRODUCT LAB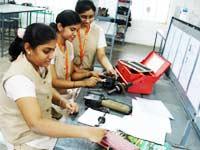 Faculty in Charge: Mr.S. Ilangovan
Tech Staff: Mr.D. Vijayakumar
Ext. No. 5537
Students are come to know the assembly and disassembly procedures of products. They can identify the various common materials used in engineering products and also its functioning. They are getting practice in free hand sketching and use of instruments for measuring dimensions. Further they are familiar with various tools and fasteners and its specifications.