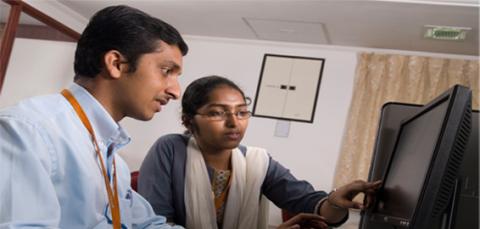 The Department of Computer Science and Engineering was established on 7th October 1996 with seven faculty members. In nearly 15 years, it has grown into one of the major departments in the University, with a team of forty three dedicated, experienced and qualified faculty members. Currently the department is offering an undergraduate programme, B. Tech. in Computer Science and Engineering. The department offers three master's level programmes: Master of Computer Applications (M. C. A.), Master of Technology (M. Tech.) in Computer Science and Engineering and Master of Technology (M. Tech.) in Computer Vision and Image Processing. The courses offered by the department have attracted the best engineering aspirants during the admissions under Bharathiar University, Anna University and Amrita University.
As the nature of Computer Science and Engineering has a never-ending cycle of innovation rooted in it, our focus is on research and thereby increasing the standard of the teaching and learning to gain international importance in research and academics. Looking at the global perspective the department has identified a few thrust areas for research and development. The major focus of research is on Computer Vision and Image Processing, Computational Intelligence and Information Systems, Wireless and Sensor Networks and Information Security. The department is in the phase of setting up specialized labs and research hub to strengthen the research in the identified areas. With nearly 64% of the faculty involved in research programmes, these research facilities has resulted in quality solutions. Our faculty members have published their research work in reputed national and international conferences and journals and have also won best paper awards.
Our postgraduate students under the guidance faculty members have completed and deployed excellent products in Amrita Institute of Medical Sciences, Cochin. Various collaborative research projects have been taken with other research laboratories and universities. Dr. Vidhya Balasubramanian and Dr. Latha Parameswaran have set up a research lab: Amrita Multidimensional Data Analytics Lab (AMuDA) under the funding of Department of Science and Technology to carry out research in "Indoor Information Representation and Management Systems". With the support of MHRD, under the A-View project some modules are developed in the area of "Multimedia indexing and data extraction". Ms. V. Smrithi Rekha, of the department was deputed to the project of MIUR for Young Indian Researchers to carry out a research project in University of L'Aquila, Italy. Also the department faculty members are doing collaborative research with Deakin University, Australia, TCS – TRDDC, AMBE, and AIMS on various areas of research. The department regularly organizes seminars, workshops and conferences both at national and international level.
The department has always maintained high academic standards and has bagged a number of University ranks. In the very first batch our student Ms. Kripa Krishnan bagged the first rank in Bharathiar University. Our students have won the best student performer award of the Indian Internship Programme 2009 by Infosys, the People's Choice award at the ICT Geelong Innovation Forum and Global Student Entrepreneur Award 2010, first and Second place in the INSCRIBE – 2011 event conducted by Robert Bosch Engineering and Business Solutions Limited and second place in the prestigious ACM Coding Contest 2010. Mr.S. Gowtham of 2007 batch was recognized by the Government of Tamilnadu for his work on Tamil Ambigrams to setup a stall at World Tamil meet Conference 2010 in Coimbatore. The TCS best project award was bagged by our student team every year consecutively from 2008 to 2011 and TCS Best Student Award for 2012. Also our students have won many accolades and brought laurels to the institution.