Presently the department has fully equipped Materials Testing lab, Fluid Mechanics lab and Environmental engineering lab under it and setting up of other necessary labs like Surveying, Goe-Technical, Tranportation etc is in progress. The department expects the students to excel in the area of civil engineering and to get good placement in the core field.
Laboratories associated with the Department:
Surveying laboratory
Construction Materials Testing Laboratory
Environmental Engineering Laboratory & Effluent Treatment Plant
Strength of Materials Laboratory
Geotechnical Engineering Laboratory
Non-destructive testing Laboratory
Surveying laboratory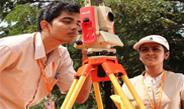 Surveying labs provide students with hands-on experience to supplement instruction in surveying courses. The introductory course exposes students to the fundamental land surveying methods of traversing and levelling. In addition, this laboratory provides facility to acquaint with sophisticated instruments viz, Electronic total station, Global positioning system (GPS), Autolevels, and Digital planimeter. Students have an opportunity to use the Total Station equipment and conduct survey camps.
Construction Materials Testing Laboratory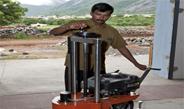 Construction Materials Testing Laboratory provides facilities for testing common construction materials and provides opportunities for research in construction materials and their application to engineering problems. The lab focuses on the experimental investigation of following construction materials: concrete and bituminous mixtures, Special cements, light weight aggregates, alternate masonry materials, high tensile steel and timber.Laboratory is also equipped with NDT facilities like Concrete Rebound Test Hammer, Ultrasonic Pulse Velocity tester, Reinforcement Corrosion Analysing Instrument and Cover Meter.
Environmental Engineering Laboratory & Waste water recycling plant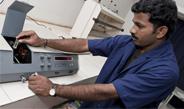 Analysis and testing of water and waste water samples are being regularly done for various agencies. Expertise is available for designing water and waste water treatment plants. Some of the major equipment available are: UV Spectrophotometer, Digital DO meter, Digital Nephlometer, Orbital Shaker and Centrifuge. 
Strength of Materials Laboratory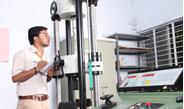 The Strength of materials Laboratory has Universal testing machine, Tensile testing machine, compression testing machine, Hardness testing machine, spring testing machine and fatigue testing machine.
Geotechnical Engineering Laboratory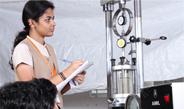 The laboratory is well equipped with all equipments required for identification, classification and investigation of soils. The equipment available in the lab include, Triaxial apparatus, Direct shear test apparatus, Proctor compaction apparatus, Unconfined compression tester, Consolidation test apparatus, CBR apparatus, Consistency limits test apparatus and Vane shear apparatus.