Systematic process for the design and development of the curriculum
The university follows a highly structured process in the design and development of the curriculum. The curriculum design and development which takes place every four/two years (UG/PG) takes into consideration the trends of the society and the nation, in terms of technological changes, human resource needs, research requirements, industry demands, employability needs, societal needs, and the needs of all the other stakeholders.
The revision process is initiated by the academic council which constitutes the Board of Studies (BOS) committee for each degree program. Eminent academicians and top industrial experts are invited to be part of the BOS that decide and revise the curriculum once every four years for undergraduate (UG) and once every two years for postgraduate (PG) programmes. All the faculty members of the department are involved in the formulation of the curriculum and syllabus, and create an initial draft, that is subsequently discussed in detail in the BOS meeting. The discussions are set up by including faculty and experts from across the various schools of AMRITA (with relevant subject matter expertise). As per university regulations, new electives can be introduced subject to approval by the academic council.
Even in the cases where the APEX regulatory body (such as, MCI, CCIM, etc.) specify the curriculum, Amrita University uses that as a foundation, and enhances it with other courses, to provide for all round development of the student.
The national and social needs are assessed based on the reports such as:
Government of India:

All India Survey on Higher Education (AISHE) by MHRD.
12th Five Year Plan on Higher Education by Planning Commission
Higher Education in India -Issues related to Expansion, Inclusiveness, Quality, and Finance :

UGC Report
"National Mission on Education through ICT" (NMEICT) Report of the National Knowledge Commission on Higher Education
Business and Corporate feedback
Feedback from the industry associations such as: CII, FICCI, and NASCOM
Inputs also taken from professional bodies in the relevant area, e.g B.Tech Computer Science curriculum takes inputs from ACM model curriculum for computer science, BA ( Mass Communication) and MA (Communication) curriculum takes inputs from UNESCO model curriculum framework for journalism programmes
"Making the Indian higher education system future ready" - FICCI Higher Education Summit, 2009
E-mail portal : "India Education Review", editor@indiaeducationreview.com
Articles in business magazines (such as Business India), and national newspapers, etc.\
Additionally, valuable feedback is obtained from the Faculty, Alumni, and Students in the following ways:
Faculty attending scholarly events (conferences, workshops, seminars, symposia, etc., provide a report with suggestions aimed at improving the curricula or the program delivery)
Feedback from the parents at the time of Counseling
Feedback from the academia / academic experts / industry experts during the interactions with them during the conferences and other programs conducted at Amrita campuses
Feedback from company representatives coming for placement
Aspects of curriculum design and development
Employability – This is ensured by including design and practice oriented courses/electives. To ensure wholesome and holistic learning, the curriculum addresses not only the domain knowledge for a specific program of study, but supplements it with knowledge and skills in other areas, such as, languages, technical and business communication, humanities, cultural education, personal development & well being, and soft skills.
Core courses and electives are designed to deliver towards the foundational and specialized needs, based on a study of the latest developments in terms of research and applications in each domain area.

Faculty members attend international and national conferences and participate in the industry sponsored conferences and workshops to understand the current trends in the industry and encourage the students to do research and innovations needed by the industry.
Some of the electives are offered by the employers themselves. Infosys, Tata Consultancy Services (TCS), HCL and Robert Bosch are some the employers who have participated in this process
Many of the curricular projects are real problems from the industry or society. This enables students to develop practical skills in applying their knowledge in real-world situations, thus enhancing their employability.
Seminar courses provide an opportunity for the students to pick up presentation skills while learning about the latest developments and applications in their domain area.
The Corporate & Industry Relations (CIR) directorate conducts training on aptitude, verbal, analytical reasoning and soft skills packaged as a comprehensive Life Skills programme for both UG and PG students. These are built into the curriculum and the timetable.
Students are also encouraged to do their summer and winter in-plant training / internships in various organizations.
Foreign language coaching is conducted to cater to the requirements of Multinational Companies
Innovation - The ever expanding need for knowledge and information, the constraints of academic calendar, and student diversity, all, call for continuous innovation in the curriculum design and approach to the teaching – learning process. For some of the programs, we also benefit from a review of the AICTE Guidelines for curriculum design and development.
Additional electives in UG and PG are approved based on the inputs from the faculty.
Research – Eminent academicians and research scientists are invited to be part of the Board of Studies. The Curriculum is designed in such a way that the students are exposed to study subjects which are interdisciplinary in nature, being offered by other departments under the category "Open/Global" Electives.
Students with research interest are provided various avenues to take up projects. These are either within Amrita, by joining teams of ongoing sponsored research projects or social projects, or outside Amrita – affiliated with industrial/business organizations, R&D labs, NGOs, etc. Many of these result in publications in journals of repute and/or conference proceedings.
Students are encouraged to participate in various competitions that are being conducted by many institutes and universities, and have won prizes in research related topics. (Examples: ICT Mumbai Technology Development Award, TITAN Innovation Award, IBM Great Mind Challenge, Amrita Technology Business Incubator (TBI) Innovation Competition, etc.).
Some new initiatives to promote research activity include the following:
Compulsory requirement for every PG student to have a publication in a reputed journal or conference, preferably journal with impact factor and/or Scopus listing or conference indexed in Scopus.
Compulsory requirement for every Ph.D. research scholar to have a publication in a reputed journal or conference, preferably journal with impact factor and/or Scopus listing or conference indexed in Scopus every year after advancing to candidacy and completed the comprehensive examination.
Incentives are given to students for pursuing research work of a high quality to result in publications in scholarly journals of repute.
Several research oriented courses are offered. For e.g.: Social Science Research methods, Statistical Methods for Researchers, Research Methodology, etc. Apart from these, there are numerous courses offered in the various domain areas.
Conformance to guidelines of the regulatory bodies for developing and/or restructuring the curricula
We carefully study, analyze, and conform to, the guidelines given by the regulatory bodies, like AICTE, UGC, MCI, PCI, CCIM, etc. The university has also submitted a proposal for starting an Innovation University responding to the call for proposals by MHRD. Additionally, we write to the top bureaucrats giving our suggestions for improving the academic environment in the country. We have submitted a large number of proposals and we are collaborating with MHRD on a number of projects for developing Technology Enhanced Higher education in India.
Curricular inputs are also taken from professional bodies in the relevant area. B.Tech Computer Science curriculum takes inputs from ACM model curriculum for computer science,
Amrita School of Communication (ASCOM) follows the UNESCO Model curriculum for Mass communication. The curriculum of Journalism and Mass Communication at Amrita School of Communication received the "Best Curriculum for Communication Studies" award (Indy's award – Feb 2012).
National Reform or Impact Achieved
As part of the National Pedagogy Project, seventeen of our faculty members have been selected as course developers – these will be shared across the nation. The courses are listed below:
Engineering Chemistry
Engineering Physics
Programming and Data Structures
Chemical Process Technology
Sustainability and Green Chemistry
Chemical Systems Modeling
Telecom Transmission and Switching
In line with the trend of today's classrooms becoming virtual, global and personalized. AMRITA has developed a unique E-learning system, A-VIEW, Amrita Virtual Interactive E-Learning World, which is cutting-edge video conferencing software, customized explicitly for Universities. This system is the preferred system for this national mission on education using ICT of the government of India and is being currently deployed at all 60universities and 30,00colleges all over India free of cost. This system addresses the most pressing issue of higher education in India today, namely, the shortage of highly qualified teachers. A-VIEW brings classroom teaching, live from expert teachers and resource persons at reputed institutions as well as foreign universities to eager students at numerous locations all over India. A-VIEW has proved to be a huge success, and has created a large impact in terms of increasing the outreach of quality education across the nation.
University interaction with industry, research bodies and the civil society in the curriculum revision process
Amrita faculty members regularly interact with the industry and the research community (national and global) while attending the national / international conferences and workshops, seeking their views for the development of curriculum and teaching learning process.
In addition to having various industry professionals and scholarly professors from leading institutions as members in board of studies, feedback is elicited from industry during the placement process. Corporate Industry (CIR) directorate documents these inputs and this is escalated to academic departments.
On a collaborative basis, there is joint development of offering of electives by industry. Infosys, Tata Consultancy Services (TCS), HCL and Robert Bosch are some the employers who have participated in this process
Most of our faculty members have membership / office-bearer positions in professional societies like IEEE, ACM and SAE in their respective domain areas.
The departments and research groups in the humanities and social sciences areas interact with NGOs and civil societies frequently.
The feedback is documented formally and used during the deliberations of the BOS for framing the curriculum.
Credit accumulation and transfer facility
Certain courses are identified as core courses, certain others as allied courses and few other electives. There is mandatory registration and credit earnings requirement for core courses. While it is mandatory to register for the allied courses, failure to earn credit in them does not necessarily mean repeating the courses. Often another course may be permitted as replacement courses. Electives are free to be chosen from those offered. Students have options to take global electives offered by other departments.
Our Curriculum contains core courses in the primary area of the program and elective courses apart from seminar courses, projects, etc. Interdisciplinary courses are offered as open electives.
Lateral and vertical mobility within and across programmes, courses and disciplines
At the end of first year 10% of the students have options to migrate to other departments.
Students have options to do interdisciplinary projects with guides from other departments.
Students have option to do internship / industry project in leading national research agencies and industries during the final semester in lieu of doing projects within department.
Students have option for Semester Abroad programme and exchange programmes in top foreign universities
Policy and strategy for attracting international students
Amrita University has established several linkages with over 75 top ranked universities in USA, Europe, Japan and Australia. This has resulted in several exchange programs. Additionally, we also attract students from other countries in South Asia.
There are Twinning and collaborative programmes with various foreign universities like Vrije University, Netherlands; State University of New York (SUNY), Buffalo; KTH-Royal Institute of Technology, Stockholm; University of New Mexico; Polytechnic University of Catalonia (UPC), Barcelona.
A dynamic group of staff members with international experience work under the Amrita Center for International Programs (ACIP) and have achieved great success in various programs related to faculty exchange, student exchange, MoUs, research collaborations, guest lectures, consultation, etc.
Self-financing programmes
We are a self financing university with no external funding and help for our operations.
All the policies for admission, fee structure, faculty recruitment, and faculty salaries are as per the guidelines and norms of the governing bodies (such as UGC, MCI, PCI, CCIM, etc.).
Choice Based Credit System (CBCS)
All our technical education is based on CBCS ever since we became a University, in 2003.
Curriculum Enrichment
Curricula of the university are reviewed and upgraded for making it socially relevant and/or job oriented / knowledge intensive to meet the emerging needs of students and other stakeholders. This is done once every four year for UG programs, and once every two years for PG programs. New electives are introduced every six months, based on the requirement.
Revision of the existing programmes
Curriculum and Syllabi are changed every four years. The Board of Studies members are drawn from exceptional academic background from premier academic / research institutes and leading industries. We are continuously in touch with the industry to access the new needs and developments so that we can respond with appropriate academic programs. The syllabus is periodically updated to meet the needs of the industry and emerging areas of research interest.
Value-added courses offered by the university
The list below shows value added courses that help the university in achieving several objectives relative to the learning outcomes of the students: soft skill, professional orientation & employability, community orientation, research orientation, and personal well-being & personality development.
Value Education
Soft skill courses are offered by the Corporate & Industrial Relations (CIR) department to all students, and are included in the curriculum, for credits.
Courses with CISCO, Tata Elxi, Infosys and National Instruments
Self-Awareness and Personal Growth
Environmental Management and Sustainable Development
Managerial Values and Business Ethics
Work life balance (WLB) a Colloquium
Yoga
Meditation
Concepts of Psychology
Certificate Course in SANSKRIT
Tally ERP, e-filing, CISCO-CCNA and Redhat
Java Programming
Electives such as Business Ethics, Environmental science
Application of C Programming for Chemical Engineering
Advanced Material Characterization Techniques
Nano Science and Nano Technology
Statistical Design of Experiments
Measurement Systems Analysis
Language Electives
C# and .NET
Internet Technology
Advanced Databases
Elective on Green Chemistry and Green Technologies
Elective on Composites
Training in the field of Endodontics and Implantology
Nursing service of the hospital provides orientation programme where the M.Sc. and Post Basic Nursing students undergo Advanced Cardiac Life Support (ALS) and Basic Cardiac Life support (BLS) training and certification
Feedback on Curriculum
There is no formal mechanism to collect feedback from students on the curriculum design. Nevertheless, suggestions from serious students gathered from time to time are incorporated, with necessary modifications, whenever revision of curriculum & syllabi is taken up.
The university collects feedback from alumni with respect to curriculum, along with other aspects of the teaching learning process.
The university discusses the vision /mission / goals of the department with the students at the time of revision of syllabus and curriculum, once every four/two years (UG/PG).
The faculty members and administrators discuss the curriculum and syllabi with national and international faculty who visit our campus and during participation in national and international conferences & workshops. Our faculty members also interact with faculty from national level like IITs, IISc, and NIT through direct meeting, or by emails. This improves the standard of curriculum.
Policies regarding admission, fee structure, and salary relative to aided institutions
Admissions are done based on clearly specified and communicated criteria (stated in the brochure, advertisements, and other communications to potential applicants). Some of the programs have an all India entrance test. Fee structure varies across the different programs, and they are generally higher than those of aided institutions. Salaries are guided by the norms of the regulatory bodies such as UGC.
Criterion II: Teaching-Learning and Evaluation
Here, the focus is on describing the mechanisms and process in place, at Amrita, that are targeted at fostering the following values: Catering to student diversity (Learner-centered education), Adequacy and competence of faculty,
Quality & range of pedagogical methods, Efficiency of techniques used to evaluate teachers & students, Regulatory compliance & social equity in the admission process, Continuous professional development, and Comprehensive assessment of desired outcomes.
With respect to the admission process, publicity and transparency are ensured in the following ways.
Publicity: Advertisements for admissions are published in all leading newspapers every year.
Transparency in the admission process: Depending on the particular program, admission is based on one or more of the following:
All India Entrance Exam (B.Tech., MBBS). There is strong demand for admission to various programmes. Over 30,000 students write the B.Tech. entrance examination for 2000 seats. Over 500students write the MBBS entrance examination for 100 seats
National-level common entrance tests (GATE, CAT, MAT, etc.)
Program-wise selections system (e.g., written test followed by screening interview/oral exam, for some PG programs)
Details of Admission Process:
Merit
Admission to all programmes are based on the minimum prescribed marks scored by the applicant in the qualifying examination.
Merit with entrance test
Admission to all B.Tech Programmes are based on the applicant's score in the qualifying examination and the rank obtained in the Amrita Engineering Extrance Examination conducted at National level. Details are given below:
Entrance Test for (UG) B.Tech Admission: Entrance test conducted by our university (AMRITA Entrance Examination – Engineering) at all India level.
Eligibility for B.Tech. Admission : A pass in the final examination of 10+2 (class XII) or its equivalent securing 60% or above marks in Mathematics, 55% or above separately in Physics and Chemistry with an aggregate of 60% in the three subjects
(OR)
A three year Diploma in Engineering with minimum 60% marks, awarded by any State Board of Technical Education.
Admission process: Candidates are called for counseling as per the Amrita Engineering Entrance rank. They can opt for any branch according to the availability of seats at the time of counseling.
Counselling Venue: Counselling is held at all our three Engineering Schools simultaneously via satellite. Candidates can attend counselling in any one of our campuses. (Coimbatore, Bangalore, Amritapuri)
Merit, Entrance test and Interview:
Selection Procedure for B. A. (Mass Communication)
Entrance Exam (CAPTEST)
Minimum of 50% marks in aggregate in the Higher Secondary Board exam
Personal interview
Eligibility for M.Tech. Admission: B.E/B.Tech Degree or equivalent in relevant branch with Minimum 60% marks
Selection Procedure for Ph.D.: The application to Doctoral program is accepted based on merit in the qualifying exam and recommendation from experts. The aspirant has to pass a written exam and qualify in the interview conducted by a panel nominated by the Dean-PG Programmes. With a positive recommendation from the examining panel the aspirant is admitted for Doctoral studies. The aspirant becomes a Doctoral Scholar after earning a minimum of 12/13 credits through course work including research methodology and a pass in the foundation course in Mathematics.
The university admissions office reviews the admission process every year, and implements measures to improve the same. One consequence of this, is that we have succeeded in achieving a higher level of geographical diversity in terms of incoming students.
Catering to Student Diversity
Orientation / induction program for freshers
The orientation, registration, and enrollment process, together last for 2-3 days.
On the first day that students join the university, senior faculty interact with the students and present them a detailed audio visual account of the prospects of the study as well as the challenges they confront in the world.
This orientation covers vision, mission, rules and regulations including anti ragging, infrastructure, facilities, etc. The students are also advised on the steps that they need to take for a successful career.
Freshers are taken on a tour of the campus by junior faculty to show them the various facilities of the institution.
At Department level the freshers are briefed on the curriculum, subjects, scope, duties & responsibilities of the students, and the role of the teachers.
Addressing the "differential requirements" of the student population
Based on the feedback collected from senior students and parents, several committees of the university look in to the requirements of the students. The student welfare department/office in each campus is actively involved in the efforts towards fulfillment of the varied needs of the students.
Bridge courses are offered to an international student as and when required.
The university offers the following avenues for students to catch up with their academic deficiencies / shortcomings:
Run-time Redo courses (offered every semester in the last period)
Contact courses - for Final Semester with less than 2 arrears
Vacation courses - Course offered during the summer vacation
Re-registration – students having more than 5 arrears
Reappearance – more than 50% internals
Fast Track – For final year UG students conducting their curricular project outside Amrita University (in industry, R&D Lab, or other institutions)
Periodical Test 3 to give opportunity to students who missed the mandatory periodical test for valid reasons
Students who have not completed the laboratory classes and are given I grade, are given an opportunity to complete the same in the following semester.
A bridge course CA311-Mathematical Foundations is offered for Lateral Entry MCA students. The classes will be held in the last hour every day.
In exceptional cases the university permits the students to take up additional courses of their choice in any department.
Vacation courses are scheduled by School Academic coordinator in two slots in summer enabling the students to take a maximum of 4 courses.
Fast track courses are offered to final year students to enable them to take up final semester internship with the industry as part of final year project.
All the courses listed in the curriculum handbook will be offered as remedial courses as and when required by the students and it depends on the number of failures.
Student Monitoring
The School has a system in place to continuously monitor every student (both UG and PG). Each student of a class in assigned to an advisor or counselor who keeps track of his/her performance, both academic and non-academic. The advisor/counselors meet the students assigned to him/her and discuss on matters both personal and academic and help in sorting out the issues. The slow learners are assisted by the student counselors to reschedule their academic program so that they can complete their studies in the shortest possible time.
For every program there is a class committee which comprises the faculty handling the classes, and the student representatives. This committee meets frequently (usually at the beginning of every semester and after every periodical test) and discuss the progress of each course and analyze the performance of the class and also discuss any issues in the conduct of the classes.
The student welfare department addresses the non-academic affairs of the students. There is a psychologist available for students in need of special counseling.
Advanced Learners
The University provides opportunity for advanced learners to study one semester or a summer project in reputed universities abroad. Our students avail the benefit of programs like Erasmus Mundus and other student exchange programs. More than 100 students got the opportunity for the semester abroad programme in reputed European and US universities in the last five years. Most of these exchanges were fully funded. With this exposure, as a consequence, many of them subsequently secured post graduate admission in these universities.
Fast-track program is possible for advanced learners wherein students complete the eighth semester course work during the winter vacation following the seventh semester, and are allowed to take up projects at renowned industries & research organizations.
AMRITA offers advance level courses for extra credit, and also encourages students to publish research papers in conferences and journals, via non-curricular research associated with ongoing sponsored research projects.
Teaching-Learning Process
Planning and organizing of the teaching, learning and evaluation schedules
The three engineering schools of the university follow a common calendar with minor modifications considering local sensitivities like festivals. The examinations are on the same day and a common question paper is administered. This process is followed by the three arts science schools as well.
The school prepares the academic calendar for each academic year and this is rigorously followed by all the departments. At the beginning of every semester it is mandatory for every faculty member to prepare and submit a detailed course plan for the subject that he/she is handling. The course plan also includes the evaluation pattern for the subject. Additionally, the faculty is required to maintain a work register, which records the attendance, course delivery, and record of performance in the continuous assessments and examinations.
A flow diagram for the course transaction process is given below.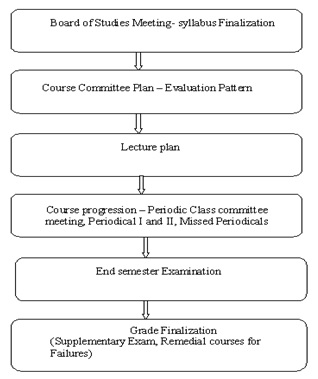 Course Mentor Scheme
A mentor is elected for each course based on their expertise – this is done at the campus level. Thus, if the same course is offered on multiple campus (within Amrita University), there would be more than one mentor for a single course
A chief mentor is elected for each course
The chief mentor prepares the common course plan by consulting the campus mentors, and circulates it to course instructors to regulate the courses
Campus mentors are allowed to set their own question paper for the mid-term exams (periodicals)
The chief mentors are empowered to create a common question paper for the end semester exam, through the single window system for multi campuses
Common courses are evaluated by circular valuation system to regulate and maintain uniformity in evaluation
Course Outlines & Schedules
The students are provided the curriculum and syllabi book when they join the program. The syllabus of each subject is divided into three modules and the periodical test 1 follows module 1, periodical test 2 follows module 2 and the end semester examination covers all the thee modules.
At the beginning of every semester, the students are provided the class time table. They are informed of the course plan prepared by the course mentor and evaluation pattern of each subject.
The class committee comprising the student representatives and course instructors hold a meeting thrice during a semester to evaluate the progress of the courses, student performance, quality of the teaching – learning process, student attendance, and to discuss remedial steps in case of gaps with respect to either student performance or teaching quality.
The effectiveness of the process is ensured by the school head assisted by the academic coordinator of each school.
Learning Activities & Methods for Holistic Development
Presenting a topic in class seminars
Forming groups and working together on a problem / mini – project
Case studies set up for discussion during the class
Conducting survey on various aspects of the industries / business organizations / NGOs / Civil Societies
Presentation of audio visuals covering various aspects of their subject, for enhanced comprehension, visualization, appreciation of practical applications, social impact of technology
Access to NPTEL lectures
Term Paper or minor project for each subject
Real time lab experiments, mini projects, hardware design
Final year projects set up with significant research orientation
Field trips
The university encourages all the departments to invite experts both from academia and industry to deliver guest lectures and seminars. This is also done through the department associations or student chapters of professional societies such as, IEEE, ACM, CSI, IETE, AIChE, SAE, etc.
The department arranges guest lectures and workshops for the benefit of faculty and students. The university meets all the expenses for the guest lecturers covering travel, boarding, lodging and honorarium expenses.
The department organizes national / international seminars, conferences and workshops periodically, for enhanced interaction between academia, industry, researchers, and students.
Blended Learning Methods
The university organizes a number of lectures through the E-learning platform, covering various disciplines, for the benefit of faculty and students. Amrita faculty members use the E-learning platform to teach students in other campuses through AVIEW. Likewise, around 100 expert lectures and workshops conducted by other eminent institutions are made accessible to Amrita faculty members and students via AVIEW. Due to space constraints the list is not included here, but is available upon request.
The university has a team headed by Prof. Kamal Bijlani working on E-learning technologies for Higher Education, and to monitor the trends and issues regarding developments in Open Source Community in order to integrate its benefits into the university's educational processes. The AVIEW system developed by Amrita University is being extensively used by over 300 institutions across the nation. Over a dozen universities are also in various stages of implementing the system in their affiliated colleges (e.g., Mumbai University, JNTU-Hyderabad, etc.). It is envisaged A-VIEW will be deployed at all 600 universities and 30,000 colleges all over India free of cost.
AMRITA e-learning research centre also participates in national distance learning programs (Online Gurukul, Ask a Question, Talk to a Teacher etc.). Some inroads have also been made towards MOOC, Blended Learning and Game-based learning.
24x7 Learning Places - Additional Information & Communication Technology (ICT) based Facilities for Learning
The faculty members make use of open educational resources and e-learning facilities as and when required during the delivery of the course.
Computer lab with internet
Studio and Non-linear Editing Lab for ASCOM students
A-VIEW
Open Course Wares (OCW)
Models
Digital Repository Vidya (which provides access to online resources such as the MIT OCW lecture materials, Feynman lecture series, etc.)
Virtual laboratory
Field oriented training for MSW students
Amrita University Management System (AUMS) is a comprehensive software system that was developed in-house, and encompasses all aspects of the university's academic and administrative functioning. A brief discussion of its usage with respect to the above points is given below:
Administrative procedures including finance: includes student and staff profiles, fee management, accounting, issue of certificates (bonafide, transfer certificate, grade sheet, degree certificate, etc.), etc.
Student admission: a state-of-the-art admissions module enables simultaneous counseling for BTech admissions across multiple campuses (in three different states), and the entire data - from issue of hall tickets, to rank data, and entry data upon admission – is captured in the system, subsequently generating roll numbers that feed into the student registration & evaluation processes.
Student records: apart from personal profiles, this includes student registration records, marks & grades, student progression data, progress reports, hostel information, etc.
Evaluation & Examination procedures: the entire gamut of activities from registration through results, including attendance and other data are captured and maintained with appropriate access levels to students, faculty, management, administrative personnel, parents, and other stakeholders.
Research administration: in the staff profile, there is a provision for faculty members to maintain records of research publications, conferences attended, research grants received, etc.
Others: E-learning module – this provides an excellent suite of tools for the teaching-learning process, including the provision to set up question banks, conduct online exams, share teaching materials & resources, host discussion forums, conduct surveys & polls, generate course-related performance-reports, etc.
In-house educational technology development cell, Centre for Research in Advanced Educational Technologies (CREATE) applies innovative digital solutions to provide accessible and affordable educational technologies and instructional software for primary and secondary schools as also builds solutions for universities with a focus on personalized assessment and learning like National faculty expertise system, computer-based medical simulation software, language learning using immersion and research grant management system. An intelligent tutoring and adaptive assessment program has been deployed in over 45 Indian schools in rural and small city neighborhoods. Indian Governments Central Board for Secondary Education (CBSE) has recommended the Online Labs (OLabs) for school experiments for all schools affiliated to this board, which is one of the largest in India.
The university has a digital Repository / library, VIDYA, available on all its intranet portals. Additionally, the staff and students have access to the digital library of the State University of New York (SUNY) – Buffalo. The students are required to download the material into their PCs and view them during their free time at home or in hostel. The course materials uploaded in AUMS and several e-books and learning materials in VIDYA is also available to students 24x7.
Wireless network service is provided on the campus for access by staff and students.
Labs and library facilities are available till late night and shall approach any faculty members at any time over telephone.
Student Mentoring & Counseling
Every class has a class advisor and at least one or two counselors, amd each student is assigned to a counselor. The counselor guides the students on academic, personal, and psycho-social matters. It is mandated that the timetable should contain all these details. The university also has a professional counselor and Student Welfare and Counseling departments.
Innovative Teaching Practices
Online examinations have been introduced as part of internal assessment tests. These help the students to stick to time schedules and have increased their focus on the test. The scores generated by the system give instantaneous feedback/results which have brought in seriousness of purpose.
Multimedia methods are used to supplement the classroom lectures, so as to facilitate a deeper understanding of applications of the theoretical concepts among the students. These include, video lectures, impact of technology / technological failures, market scenarios, social surveys, etc.
Creative and Scientific Temperament for Learners
The students are given an opportunity to work in the research labs for their final year projects and mini-projects. Students with a research bend of mind are encouraged to associate with faculty who have ongoing research projects and work with the research team. They are encouraged to attend national and international conferences, seminars, and workshops, to get exposure to emerging areas of research and cutting edge technologies.
There is a compulsory requirement for every PG student to have a publication in a reputed journal or conference, preferably journal with impact factor and/or Scopus listing or conference indexed in Scopus
Compulsory requirement for every Ph.D. research scholar to have a publication in a reputed journal or conference, preferably journal with impact factor and/or Scopus listing or conference indexed in Scopus every year after advancing to candidacy and completed the comprehensive examination
B.Tech. students must publish a paper to get Distinction in B.Tech degree.
Innovative ideas were encouraged by providing necessary financial assistance to make them into reality.
To create professionalism, creative and scientific temper, there is strong Co-curricular engagement of students through the conduct of national-level inter-university tech fests and management fests like Anokha, Pragati (Coimbatore campus), Vidyut (Amritapuri campus), Asthra (Kochi campus), Aykya (Bangalore campus) etc.
Students are encouraged to take membership and start student chapters of all major professional bodies in India and abroad like Confederation of Indian Industry (CII), IEEE, Society for Automotive Engineers (SAE), and Association for Computing Machinery (ACM), Computer Society of India (CSI), Institution of Electronics and Telecommunication Engineers (IETE), Indian Welding Society, Student Nurses Association of India (SNAI), Petrotech Society, Indian Institute of Chemical Engineers. CII Young Indians, CSI and IEEE student chapters are nationally recognized. These associations provide them access to latest tools and tackles in the field as also access to journals, conferences and resources in cutting-edge areas.
Student Curricular Projects
Curricular projects are mandatory for most UG and all PG programs.
Role of faculty in facilitating such projects
Student projects are mandatory in the curriculum. UG projects are done either individually, or by a group of 2 to 4 students, and PG projects are done individually. Many of the PG students do their final semester projects in reputed Industries, prestigious institutions, and R&D labs. If the project is industry based or interdisciplinary there will be an external co-guide, but one of the department faculty members is the main guide. It is the responsibility of the project guide(s) to teach the student how to develop a focused approach, conduct the research, and write a report.
Faculty members handling projects are involved in various capacities. Project Coordinators coordinate the entire work related to project administration and draw the schedule for the reviews & final submission of the project report. Faculty members serve as guides and are in constant touch with students for the duration of the project work. Senior teachers form the panel constituted for the three mandatory reviews. To ensure transparency, greater objectivity, and new perspectives, an external examiner is invited to be a part of the panel during the final project review. The feedback obtained from the external reviewer enhances the quality of the project further.
Preparation of computer-aided teaching / learning materials
Almost all the faculty members are trained in the use of computer-aided teaching/ learning materials. Amrita VIDYA and AUMS are available round the clock for the usage of faculty. Seminar halls and video projector facilitated class rooms with network connectivity are available. Online assignments, quizzes, and tutorials through AUMS and simulation based experiments (virtual labs) are commonly used. Provision of Internet facility, facility to conduct online examinations, availability of large number of e-books, facility to install course materials in the intranet are prevalent throughout the university in all the campuses.
Student Feedback on Teachers
There are two primary mechanisms for student evaluation of teachers.
During each class committee meeting, the class representatives provide feedback on the teaching and class transactions to the committee chairperson for appropriate action.
Feedback forms submitted by each student for each subject and course instructor at the end of the semester (term).
The feedback loop is closed as follows. The forms are sent to the school head for analysis. Results of the analysis are submitted to the chairperson of each department. The chairperson holds one-on-one meetings with each course instructor to discuss the feedback, and corrective actions are initiated wherever appropriate. A general summary is then communicated back to the students.
Teacher Quality
Planning and Management of Human Resources
A well-staffed and experienced Human Resource Department exists on each campus, to plan, organize and manage all matters related to recruitment, selection, promotion and reward of the faculty.
The faculty requirement is estimated based on the curriculum and a proposal is submitted to the management at the beginning of every year. An advertisement is released in national newspaper seeking prospective applicants. Job postings are also updated on the university web site. Eligible applicants are shortlisted and called for interview by a selection panel constituted by Head of the school. At the end of the selection process, the selected candidates are offered suitable positions within the department. In case of an emergency, this process is carried out any time during the year. The university, in general, considers recruitment of well qualified faculty with futuristic growth and development in mind, rather than merely to meet the basic regulatory needs.
Faculty are encouraged and supported to purse higher studies either within the university or outside to enhance their educational qualifications. Appropriate incentives are given for the same.
It is mandatory for every faculty member to have a publication in a reputed journal or conference, preferably journal with impact factor and/or Scopus listing or conference indexed in Scopus every year to be considered for promotion and career advancement.
Academic recharge and rejuvenation of teachers
To academically recharge and rejuvenate teachers, the following facilities are provided.
Faculty members are encouraged to participate in sponsored research projects (both government and industry).
Faculty participating in research are provided facilities to set up laboratories and given teaching load reduction.
There is an incentive scheme to encourage faculty to take up research and publish papers in Scopus indexed journals.
The university also provides internal research grants, computers, research infrastructure and access to online research journals.
Faculty members are encouraged for, and assisted with, attending national / international seminars, conferences, and workshops.
Faculty members are provided study leave and work load reduction to pursue higher studies part-time. Faculty can avail six months leave for writing thesis for PhD. Program. Sabbatical leave of one year is given to faculty having at least seven years of experience.
The department periodically organizes national / international seminars and conferences and faculty are members of the organizing committee.
The university provides special casual leave for a period of 15 working days in a year for faculty members to attend seminars, conferences, faculty development programmes, research activities, etc.
The University encourages faculty members to involve themselves in research activities and it is made mandatory that all faculty members publish at least one paper every year.
Faculty members can avail seed money for research and for organizing conferences.
Evaluation Process and Reforms
Save-a-year programs: The conduct of courses is designed in such a way that the low-performing students get additional opportunities to complete their degree program faster. A description of the system is given below:
Conduct of courses: Credit system encourages learning. Apart from regular class lectures, students are given major assignments which form a part of the course and are also considered for evaluation. Seminars, design and other assignments, technical paper writing, quizzes etc. are also a part of the course being conducted.
The teacher offering the course evaluates the performance of the students at regular intervals and in the end semester examination.
A class committee exists comprising all teachers handling all the courses for the class, the class advisor and students` representatives. This committee monitors the conduct of all the courses of a class.
A course committee comprising all teachers / mentors offering a course in all the campuses decides on the course plan, evaluation procedure and any midway correction to be taken. Decisions taken by this committee are informed to all students who have registered for the course. The class / course committee, without students` representative, finalizes the grades and results for the class / course.
The following weights are assigned for the evaluation of the courses. This has been revised on some occasions, based on feedback received from the stakeholders, and after due deliberations in the university level committees.
Type of Course

Percent Weight

Continuous Evaluation

End Semester Examination / Final Evaluation for Project

Lecture

50
(Minimum two Mandatory tests)

50

Laboratory / Practical

70

30

Project Work

40

60

There is a third test, where required, at the end of the semester in a subject exclusively for the students who have missed either one or both the periodical tests in that course. All periodical tests, including the third shall have equal weights. The third test is conducted before the end-semester examination covering the entire syllabus prescribed for the course.
Students who have missed both the periodical tests can compensate for only one of them. The third test is not a right and students who have abstained from any regular test(s) have to give a formal application for the third test substantiating the reasons for absence through the class advisor and the department chairman, to the Controller of Examinations for consideration.
If a student does not appear for any of the tests, he is not eligible to appear for the end semester examination and has to re-register for the course when offered next.
It is mandatory for the students to appear for the end semester examination / second chance examination for the completion of the course and score a minimum percentage as decided by the course / class committee.
If the Project work is not satisfactory, the student will be asked to continue the project till he / she completes it satisfactorily.
Additionally, the following opportunities are given to the low-performing students to progress towards their degree in a timely manner.
Second Chance Examination
A student who has secured an F grade in a course will be allowed to appear for a second chance examination as per rules. However, FA grade students cannot write the second chance examination.
Second chance examination will be conducted shortly after publishing the results, as per the rules framed for the purpose. Students who were absent for the end semester examination may be permitted to appear for the second chance examination. Permission to appear for the second chance examination will be considered only on the request of the student, who should apply within a week of missing the examination giving genuine reasons for absence.
Permission to appear for the second chance examination will be granted under valid reason by the Dean (Engineering) / Head of the Campus, on the recommendation of the Chairperson of the Department.
Summer Term Course
In one academic year, there are two major periods of study – Odd (July – Nov) and Even (Dec – May) semesters. Vacation courses are also available for additional instructions, if needed.
The departments, considering the need of students and availability of faculty members, decide on vacation programmes. Such vacation courses are offered only to students having backlog of subjects.
In addition to vacation courses, for special deserving cases, contact courses are also offered at times. However, no student has the right to demand for vacation or contact courses.
The evaluation process is printed and published in the institute calendar and distributed to all faculty and students.
At the department level the class counselors and class advisors meet the students and brief them about the evaluation patterns and the credit system.
Progress reports are sent to the parents immediately after the periodical exams by the class advisors.
Publishing of Results
The university publishes the examination results within two weeks from the last day of the examination. It is published through the University website.
Progress Report will be sent to the parents immediately after the periodical exams by the class advisors/counselors. AUMS supports a parental portal through which the parent of the student can view the performance of his/her ward.
Transparency in the evaluation process
Periodical tests I & II (weight - 15% each) answer scripts are given to the students to verify their marks awarded by the faculty. (They can verify their answer booklet after evaluation.)
Continuous assessment (weight - 20%) is transparent to the students (Quizzes and Tutorials conducted by the subject faculty will be converted to 20%).
End semester (weight - 50%), photostat of the evaluated answer scripts will be given to the students as per their request by paying the fees instructed by the controller of examinations.
A student complainant can request for revaluation of answer scripts of the end semester examination, through a well laid out procedure. A revaluation fee is charged for each paper. If the revaluation leads to a better grade, the revised grade will be awarded to the student and in such cases the revaluation fee will be refunded in full. Revaluation is allowed only for lecture-based courses.
Does the university have an integrated examination platform for the following processes?
Pre-examination processes – Time table generation, OMR, student list generation, invigilators, squads, attendance sheet, online payment gateway, etc.
ECE- Time table generation, student list generation, invigilators, squads, attendance sheet.
Examination process – Examination material management, logistics, etc.
ECE- Examination material management, logistics, attendance sheet collection after commencement of the exam (after 30 minutes).
Post-examination process – Attendance capture, OMR-based exam result, auto processing, generic result processing, certification, etc.
ECE- Attendance capture, auto processing, generic result processing, certification, verification of number of answer booklets in each hall with absentees statement.
We have all the above systems functional.
Reforms in Ph.D. evaluation process
Compulsory requirement for every Ph.D. research scholar to have a publication in a reputed journal or conference, preferably journal with impact factor and/or Scopus listing or conference indexed in Scopus every year after advancing to candidacy and completed the comprehensive examination.