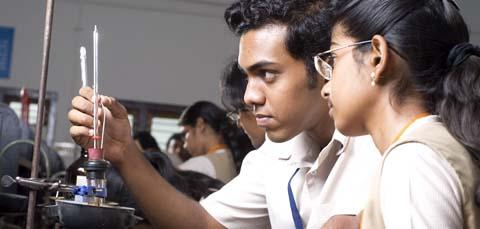 The Department is started in the year 1994 and presently it has 27 faculty members with 21 PhDs from various universities in India and abroad. The Department offers Five year integrated MSc and PhD programs in Physics and Chemistry.
The Department has expertise in various fields such as Theoretical Nuclear and Quantum Physics, Biosensors, Nanomaterials and Nanotechnology, Biomaterials, Fuel cells, Electrochemistry, Organometallics, Quantum Optics, Non linear optics, Medicinal Organic Chemistry, Computational Chemistry, Solar cells, Thin films, Corrosion, Environmental Chemistry, Ion traps, Atomic physics and Laser Materials Processing.
The Department has several Research labs with state of the facilities which include Biosensor Research Lab, Materials Synthesis and Processing Lab, Biochemistry Materials Research Lab, Dhanvanthari Lab, Nonlinear Optics Lab and Particle Dynamics Lab.
The department has funded projects from various agencies like DBT, DST, CSIR, DRDO, ISRO, and MHRD to the tune of 300 lakhs. 21 research fellows are working towards their PhD and they are supported with fellowships from CSIR, INSPIRE-DST etc. Faculty also collaborates within and outside Amrita for interdisciplinary research initiatives.
About the Five Year Integrated M Sc Program
The Five year Integrated M Sc program is in consonance with the National vision of strengthening Science Education and Research. The program aims at creating youngsters with strong fundamentals in basic science which equips them to take up cutting edge research in Science and Technology. University has several research laboratories and expertise which creates a right ambience for a vibrant research culture. We facilitate exchange program with international universities and also give training to face national level scholarship examinations to take up high quality research. Amrita with its commitment towards excellence coupled with programs in various fields in Engineering, Biotechnology, medicine and strong interdisciplinary research is the right place for anyone looking forward for a productive carrier in research.