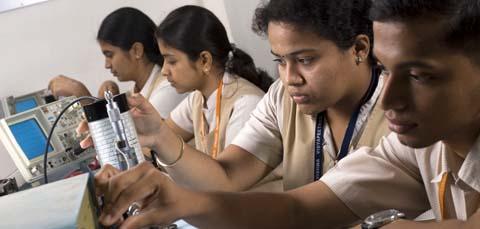 Department of Electronics and Communications Engineering aims at training students in the areas of Electronics like Solid state circuits, VLSI, Electronic Controls and Communications Engineering including , Multiple access technology and Microwave Engineering.
A team of experienced faculty in Analog and Digital Communications are conducting research in various aspects of Communications.
A VLSI Design group is working on latest device developments and circuit design algorithms at various levels. A Biomedical Engineering group is innovating on telemedicine, signal processing and imaging techniques. Process control and instrumentation group are at developing latest control schemes of industrial processes.
There are facilities to develop microprocessor/ microcontroller based sensor networks and equipments through guidance from experienced professors and laboratory setup. There is a core signal processing group to assist students to learn communication related applications.
There are special electives like soft-computing, support vector machines and in other areas of emergence to cope up with the latest trends in application areas. One specialty with the department is that students learn published material from journals and generate publications of International quality. The fact that a sizeable lot of our alumni secured post graduate and research degrees from institutions of repute abroad, vouches the motivation given by our faculty members.