1.Sanitary Complex for Women - Inauguration at Ettimadai
Women's sanitary complex was inaugurated at Ettimadai on 20.07.15. It was inaugurated by Swami Tapsyamrita Chaitanya. Mr.A.Shanmugam, President, Ettimadai Town panchayath, Mr.A.Chinnasamy, (Oor Goundar, Ettimadai) Ahram brachmachries, villagers were also present during the inauguration.
2.Tailoring Class inauguration
As part of Amrita SeRVe project, Tailoring class was inaugurated on 25th July 2015. Smt. V. Sundari, Academic Director, Amrita Vidyalayams handed over the project to the tribal women.
Introduction & Welcome address was given by Dr.M.Nagalingam, Asst. Professor , Dept. of Social Work. Presidential address was delivered by Mr.Thangaraj, President, Mavuthampathy Panchayath. After that Mr.Manikandan, President, Primary Agricultural Cooperative Credit Society and Mr.Sudhakar, Vice-President, Mavuthampathy Panchayath delivered Felicitation address. Following to that Dr. Suja M.K, Associate Professor & Head, Dept. of Social Work delivered vote of thanks. 13 Tribal women will be benifited by this intervention.
3.Tuition class inauguration
Free Tuition class was inaugurated on 24th July 2015 by Br.Anil varma ji at Muruganpathy tribal village. Dr.Sriram and Br.Shamugam ji also joined for the inaugural function. Ms.Nithya was selected as tuition teacher. 20 students from the village are to be benefited .
Tuition class inauguration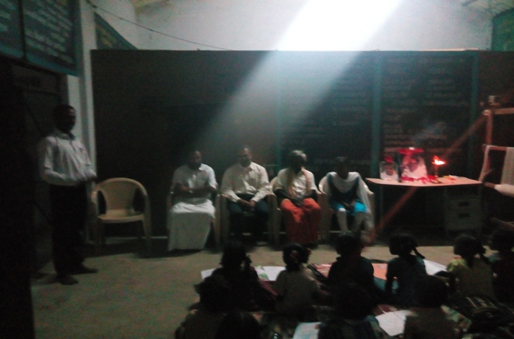 4.Training on Organic Farming
As part of Amrita SeRVe project, a seven-day training programme on "Organic Farming towards Self-Reliant Sustainable Agriculture" was conducted from 05th to 11th August 2015 at Amrita Vishwa Vidyapeetham University campus. There were six rounds of pre-training meetings to select the interested farmers and finally around 26 farmers from the nearby villages were given opportunity to take-part in the training programme. Eminent professors and successful farmers handled the sessions for the farmers. Dr.G.Balakrishnamurthy, Ph.D, PDF(USA) Prof. of Horticulture(Retd.), TNAU and Coordinated the entire training programme.
5.Amrita Centre for International Programmes (ACIP)-Live in Labs programme at Idukki,Kerala
Five II MSW students and 5 students of Ryerson School of Disability studies, Canada participated in the L – I – L (Live In Labs) programme at Komalikudi, Bison Valley, Idukki Dist. Kerala from 1st to 13th August 2015. The students interacted with the village community and exchanged thoughts and ideas. Our students also benefited from the interaction with  international students.
6.Awarenees programme on Free legal aid
Awareness programme on free legal aid services was held at Periyar Nagar, Saravanampatti, Coimbatore on 10.08.15. It was jointly organized by District Legal Services Authority, District Child Protection Unit, World Vision India – Coimbatore, Dept. of Social Work – Amrita Vishwa Vidyapeetham University Coimbatore. Mr.Jaganathan, Secretary, District Legal Services authority spoke about free legal aid. Mrs.Rexlin (Protection officer - Non-Institutional care), District Child Protection Unit spoke about child safety and protection. Mr.Vetriselvan John, Co-ordinator, World Vision India Coimbatore co-ordinated the event. The First and Second Year MSW students performed street play on child and women safety.