How to get the College Calendar in your Amrita Zimbra mail account.
1.  Login to your email account at http://mail.amrita.edu
2.  Click on "Calendar" on the top menu (Refer to Screenshots below).
3.  RIGHT Click on the Calendar Heading on the right hand menu.
4.  Click on "New Calendar"
5.  In the "Name" field, you may enter any name for the calendar (Eg. College)
6.  Tick on the option "Synchronize appointments from remote calendar".
7.  Type this link  https://mail.amrita.edu:8443/home/icts@amrita.edu/ASECalendar in the URL. (Do not right click this link and use "Copy Link Location".  You can use copy paste).
8.  The College Calendar will automatically update into your Zimbra Calendar.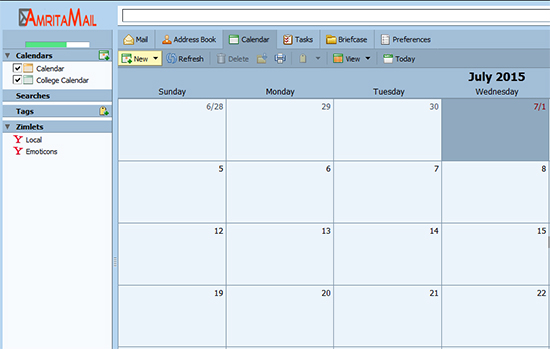 Amrita Mail Integrated Calendar