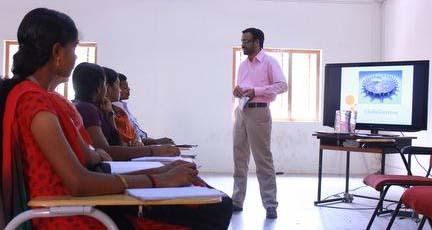 The Amrita MSW is a two-year full-time residential program which requires high levels of concentration, long hours of work and sustained commitment from students. Its credit-based system allows tremendous flexibility in matters of course design, curricula, timeframe, teaching and learning methodologies, and evaluation procedures. 
The curriculum is on par with that of the best international institutions in the field of Social Work, while taking into account the specific requirements of the Social Work profession in the Indian context. 
The MSW program maintains a healthy balance between classroom sessions and field practice.
In the first semester, students are introduced to basic concepts in Social Work and the values and ethics integral to the Social Work profession. Students undertake observational visits to selected social service agencies and health care centers offering community services.
In the second semester, the curriculum teaches various perspectives and diverse methods of Social Work, giving students the requisite theoretical foundation and professional skills to do Social Work. 
During third and fourth semesters, students concentrate on the specialization of their choice: Community Development, Disaster Management, Child Rights or Health/ Mental Health.
Students are involved in field work with selected agencies, both concurrent with academic courses and separately in blocks.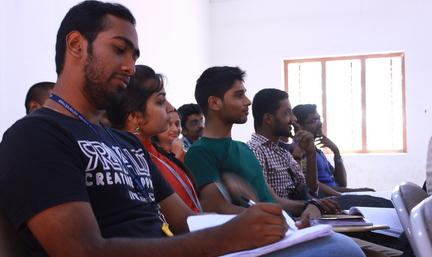 In the fourth semester, students are required to do a ten-week research project with a social service organization in their area of specialization. This gives them exposure to the functioning of social service organizations, familiarizes them with their future roles in the profession and teaches them to do field-based research projects and create research reports and presentations.
MSW students also provide counseling services for local people with psycho/social/emotional problems and have developed several grant proposals.
The MSW Student Association works to raise awareness of human needs in this era of technology. It frequently displays wall posters on current social issues, problems and needs, to inform and educate students and the public.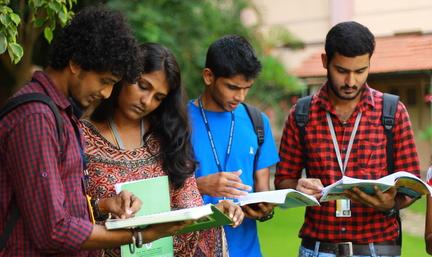 Students also conduct seminars and workshops on Drugs and Alcohol Abuse, Suicide Prevention and Crisis Management. MSW students are also active in Amrita's diverse cultural and spiritual activities. 
Amrita University has been in a long standing cooperation with foreign universities, organizations and related institutions.International partnerships involve programs in education and research suited to national as well as international development. These innovative programs prepare students to become advocates for social equality and social justice.
The Department of Social Work offering MSW Programme was started in two campuses, Ettimadai-Coimbatore (Tamilnadu) & Amritapuri- Kollam (Kerala), in the academic year 2007-08. It has also engaged itself in strengthening social work practice, research and field projects. Besides the regular teaching and fieldwork, the Department of Social Work organises a large number of professionally useful training programmes, certificate courses and workshops.
The AMRITA MSW Advantage
Among the 3 categories of Deemed Universities in the country, Amrita is placed in Category-1 by the MHRD, GOI
Qualified and experienced fulltime faculty
Nationally and internationally recognized experts as visiting faculty
Wide and diversified settings for concurrent field work, unmatched learning experience through closely supervised field work
Block placements and internships in nationally & internationally reputed voluntary (NGOs/ INGOs) and corporate organizations, government departments, as well as at the development projects of the Mata Amritanandamayi Math
Credit-based curriculum and continuous evaluation under semester pattern
A dedicated in-house 'Training & Placement Directorate'
Students from different parts of the country including North and North East India.
International alliances and excellent infrastructure facilities
Unparalleled benefits of living and studying in a huge campus
Specializations Offered
Community Development.
Physical and Mental Health.
Disaster Management and Child Rights.
Child Protection.
Field Education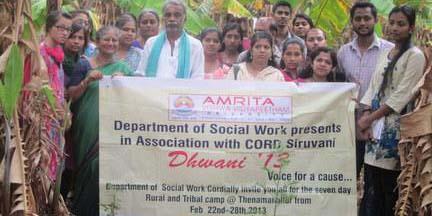 Field education is the signature pedagogy for social work. Consistent with the mission of Amrita University, the students are bestowed with an opportunity to transcend theoretical knowledge by engaging in educational endeavors that helps nurture their skills and appreciate the realities of coping with complex problems in the quest to improve the quality of life and subjective well-being of the society.
Course of Study
Semester 1
Semester 2
Semester 3
Semester 4
Social Change and Social Development (3)
*ISWP III - Community Organization and Social Action (3)
Indian Constitution, Democracy, and Social Legislation (3)
Project Planning and Management (3)
Guiding Principles in Social Work Practice (3)
Social Work Research: Survey Method and Case Study Design (3)
Social Welfare Policy, Programmes and Administration (3)
Human Resource Management for Non-Profit Sectors (3)
Understanding Human Behavior (3)
Introduction to Public Health (3)
Psycho-Social Care, Approaches and Counselling (3)
Elective Paper 3 (3)
* ISWP I - Social Case Work (3)
Disaster Management and Vulnerability Reduction (3)
Elective Paper 1 (3)
Elective Paper 4 (3)
* ISWP II - Social Group Work (3)
Introduction to Child Rights and Child Protection (3)
Elective Paper 2 (3)
Concurrent Fieldwork IV (3)
Concurrent Fieldwork I (3)
Concurrent Fieldwork II (including Rural/ Tribal camp) (3)
Concurrent Fieldwork III (3)
Block Field Placement (Internship) (3)
Cultural Education (Pass/ Fail)
 
 
Dissertation (3)
Total Credits - 18
Total Credits - 18
Total Credits - 18
Total Credits - 21
Total Credits for the Program - 75
* ISWP - Integrated Social Work Practice
Elective Streams:
Community Development
Physical and Mental Health
Disaster Management
Child Rights and Child Protection
Rural-Tribal Community Development and Good Governance
Mental Health Knowledge for Social Work Practice
Hazards, Risk, and Disasters
Understanding Children as Vulnerable Groups
Urban Community Development and Good Governance
Social Work Intervention in Mental Health Setting
Standards and Approaches in Disaster Relief and Recovery
Care and Support Services for Children
Climate Change and Sustainable Development
Physical Health Knowledge for Social Work Practice
Psychosocial Intervention in Disaster Response and Recovery
Intervention for Child Rights and Child Protection
Social Mobilization for Social Action
Social Work Intervention in Physical Health Setting
Disaster Risk Reduction and Climate Change
Children in Humanitarian Crises: Interventions Therein
NOTE: 
1. An internship after second semester will be offered as a non credit course.
2. CIR department will offer a non credit course on placement and communicative skill in every semester.