Seize an opportunity to attend an online Expert's Talk on "HEALTH AND NUTRITION" on 15th February, 2022 (Tuesday) between 04.45pm and 06.00pm. This event will be organized jointly by Department of Physical Education and AAGNEYA as a part of FIT INDIA MOVEMENT activity, an initiative by Government of India. E-certificate will be issued to the participants.
Platform: Teams
About Speaker: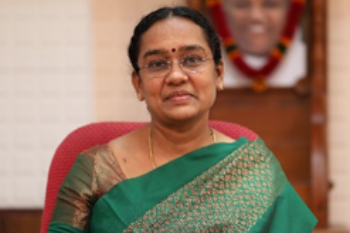 Dr. P.R Janci Rani, MPhil., Ph.D., currently working as Assistant Professor (SG) & Consultant Nutritionist in the Department of Sciences in our Coimbatore Campus,
Focused Research areas are Community Health and Public Health, Pre and Post Natal Nutrition, Functional Foods, Food Product Development and Food Service Management.
She is a National Resource Person for NIRD and NRLM from 2016 onwards.
She is also appointed as a 'Roster Nutrition Consultant' for four consecutive years (2018-2022) by # UNICEF – India with a responsibility of providing technical support to National/State/District/Block Level nutritional programming in UNICEF supported states in India. Thrust areas in women empowerment such as health, education and livelihood are focused.
She is an author of various journals of food science and nutrition.
She is the recipient of Young Scientist Award in 2009 by Indian Dietetic Association and Excellence in Research Award in 2017 by Amrita Vishwa Vidyapeetham.
She has collaborations with funding agencies such as Department of Science and Technology and Ministry for Tribal Welfare for community programs.
She is a frequent guest speaker at various conference and professional events.
Agenda:
5.00pm: Welcome address
5.05pm: Introduction of the guest
5.10pm: Talk by Resource person
5.55pm: Vote of thanks
Organized by Dept. of Physical Education,
Event Organiser:
Dr. Kumaresan O.J
(Nodal Officer - Fit India Movement),
Director of Physical Education.
Call: +91 90470 84579 / +91 93642 64212
WhatsApp: +91 88387 51166
Phone: 0422-2685154 / 2685156
Email: oj_kumaresan@cb.amrita.edu.
Event coordinator:
Mr. Santhosh R,
Gym Instructor,
Department of Physical Education,
Mobile no. / WhatsApp: +91 9786673103