March 22, 5:00 pm
Where
Online Platform : MS Teams
(A Fit India Movement Activity to be held on 22nd March 2022 – 5.00 pm & 6.00 pm)
The clock is ticking. The scores are even. The tension is palpable, as all eyes rest on your every movement, every expression. You can sense the hope, fear, excitement, and expectation in the very air around you. You know you have to drown out the noise - the pleas, cheers, boos, hoots, everything. Your focus must be singular and undivided as what you do now will decide your future…
As a sports player, at some time, you will face this situation. It is a formidable challenge at any stage and herein lies the role of yoga & meditation in sports.
Regular Yoga & Meditation practices along with any sports training integrate mind-body connection effectively and athletes can benefit to achieve their best performance.
Yoga has become an inseparable part of training for sports players. Whether you are an athlete, swimmer, tennis player or ballplayer, the role of yoga in sports is indispensable. If you are wondering why, come and explore the wide-ranging benefits that yoga & meditation have for sports through this online webinar.
About Speaker: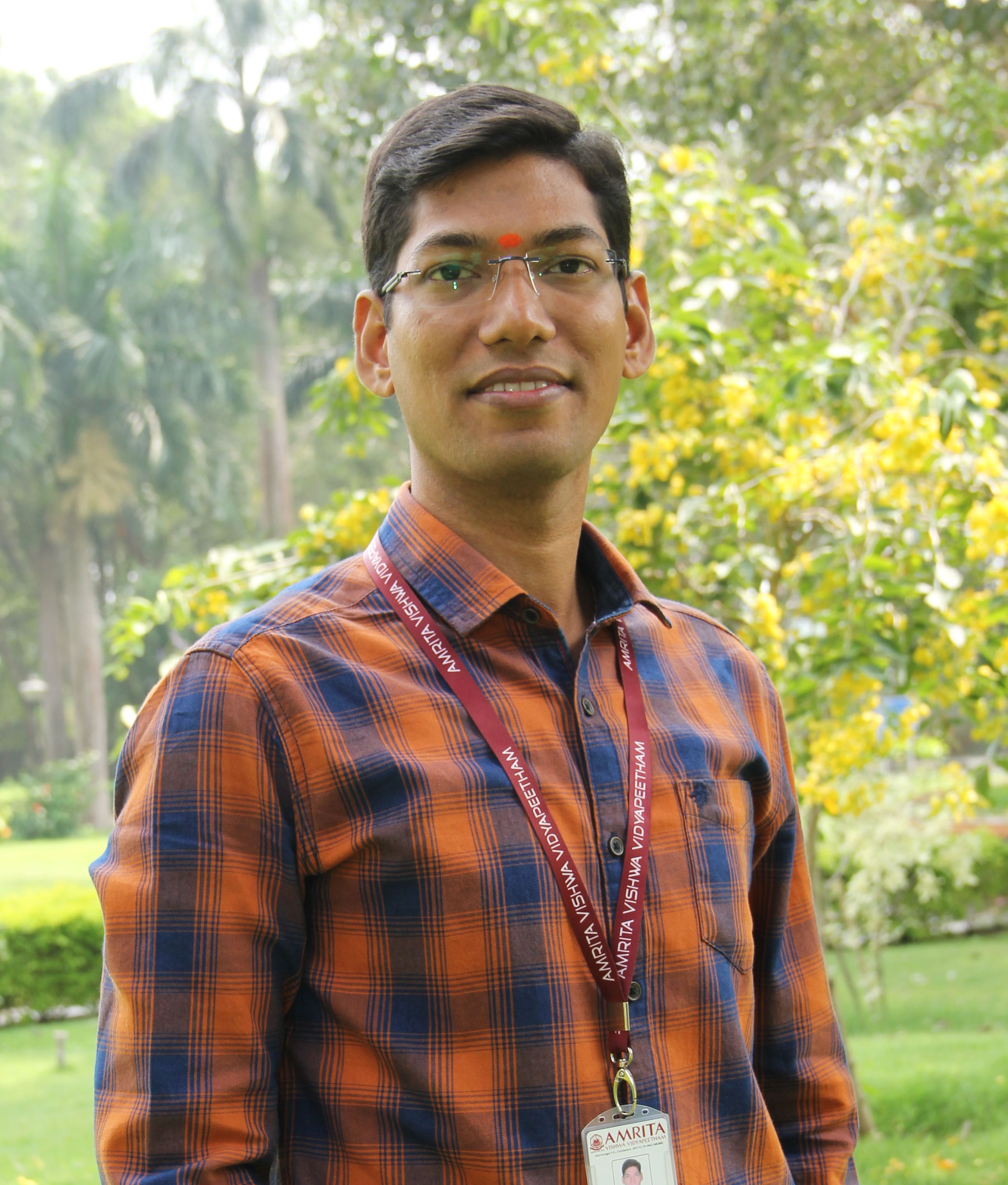 Shri.B. Senthil kumar currently serves as an Assistant Professor in Amrita Darshanam - International Centre for Spiritual Studies at Amrita Vishwa Vidyapeetham, Coimbatore campus. He is a Yoga Teacher cum Yoga Therapist. He obtained M.Sc. Yoga Therapy from Tamil Nadu Physical Education and Sports University, M.A. Sociology from University of Madras, and B.A. History from Loyola College, Chennai. He has also completed Post Graduate Diploma in Yoga and Yoga Therapist Training Program at Krishnamacharya Yoga Mandiram, Chennai.
Yoga Research Experience
He worked as a Project Associate, Research Dept., at Krishnamacharya Yoga Mandiram for 4 years.
He worked as a Co-Investigator and Project Associate in a Central Government funded research project on "Lifestyle Practices of Urban Youth-A Comparative Study between Yoga Practitioners & Non-Yoga Practitioners" which was funded by Indian Council of Social Science Research, New Delhi.
Published 3 research articles on "Lifestyle Practices of Youth", "Teaching Methodology in Individualised Yoga Therapy" and "Lifestyle Survey of Urban Youth: An Analysis of Healthy Behaviour in Relation to Yoga Practice".

Two of his papers were selected as the best paper of the conference award.

He has presented more than 6 research papers in national and international conferences.
Yoga Teaching Experience
He has been teaching yoga for past 13 years.
He worked as a Yoga Therapist for 7 years in Krishnamacharya Yoga Mandiram, Chennai.
He has conducted more than 1,000 - group yoga sessions to both Indians and International students.
As a Yoga Therapist, he has handled more than 8,000 one-to-one yoga therapy session for a varied number of ailments.

He also good in teaches and introduces yoga to children in playful way.

He is also good in Classical Viniyasa Technics and its demonstration in Krishnamacharya tradition.
Presented as a Resource Person in national and international yoga conferences for more than 10 times in India as well as in foreign countries.
He was selected as one of "The 100 Most Inspiring Yoga Teachers in India" by hellomyyoga.com in June 2018.
He is also a trained athlete, gymnast and swimmer.
Agenda:
05.00 pm: Welcome address
05.05 pm: Introduction of the guest
05.10 pm: Talk by Resource person
05.55 pm: Vote of thanks
Organized by Dept. of Physical Education,
Event Organiser:
Dr. Kumaresan O.J
(Nodal Officer - Fit India Movement),
Director of Physical Education.
Call: +91 90470 84579 / +91 93642 64212
WhatsApp: +91 88387 51166
Phone: 0422-2685154 / 2685156
Email: oj_kumaresan@cb.amrita.edu.
Event coordinator:
Mr. Santhosh R,
Gym Instructor,
Department of Physical Education,
Mobile no. / WhatsApp: +91 9786673103