ACME - Association of Department of Mechanical Engineering, School of Engineering, Amrita Vishwa Vidyapeetham, Coimbatore, will organize a Tech-Talk Series titled ASTITWA. In this regard, ACME is orgazinig its first tech-talk for the AY:2021-22, on the topic "Development of a New-Gen Nano-Coated Electric powered Covid Mask - N99" on September 2, Thursday @ 11:30 AM. 
Talk: Development of a New-Gen Nano-Coated Electric powered Covid Mask - N99
Web Platform: MS Teams
About ASTITWA
ACME's Series of Technological cum Informative Talks and Workshops for Artisanship Development 
ASTITWA is a Sanskrit/Indian Word for Existence, Knowledge (Truth) Seeking at all Levels, Reality, Being Alive, Continued Presence, Human Consciousness, etc.
ASTITWA is a platform created by ACME to conduct Tech-Talks and Workshops in order  to  Search  for  ANSWERS      for INFORMATION,  and  Beyond  that     for Gaining KNOWLEDGE, and thereby, to Develop our SKILLS,..... and at a Philosophical viewpoint (on a bigger picture)...... For a bigger AWARENESS of our own EXISTENCE!!
About ACME
Association of Mechanical Engineering (ACME) is a departmental professional association, formed to organize professional activities like seminars, workshops, industrial and inter-institute interactions, and other technical as well as non-technical events for the benefit of students & faculty, to enhance their professional, organizational, and leadership skills.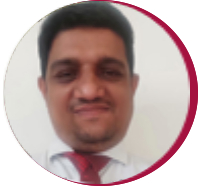 Mr. Krishnadas Ganapaty
Start-up Owner & Industrial Expert
Founder - Sss Simulation Design Services, Indore.
Areas of Expertise: Automotive, Sheet Metal Manufacturing, Aerospace Engines, Medical Devices
He will be delivering his talk on "Development of a New-Gen Nano-Coated Electric Powered Covid Mask-N99", which is a unique kind of mask that his company has patented, has received approval from Govt. of India and is currently in the process for mass production.
In addition, Mr. Ganapaty has vast experience working in the automotive domain. He has more than 20 years of experience working as a Senior Engineer in several auto-giants like TATA Motors, Suzuki Motor Corp., Mahindra& Mahindra, etc. He has also worked with Godrej Aerospace, Tal Manufacturing Sols., Hettich India Pvt. Ltd, Sosmata Technologies, etc. to name a few. His domain areas of expertise are in multiple areas like Tool & Die Engineering, Sheet Metal Manufacturing, Stamping (HT & AHT Steels), Composites, CAE Tools, and Supply Chain. His company Sss is currently involved with projects related to Automotive, Aerospace (Aero-engines), Transportation, Nanotech, and Medical Devices.  
AGENDA for the Day (1-hour event):
Inauguration/Release of the ASTITWA Logo by the Chairperson, Dr. S. Thirumalini.
Welcome Address by Dr. S. Thirumalini.
Introduction of the guest speaker by the ACME convener.
Tech-Talk by Mr. Ganapaty (45 mins).
Vote of Thanks.
Date: 2021-09-02 11:30 to 17:00
ORGANIZED BY:
Department: Mechanical Engineering
School: School of Engineering