Amritavarsham 65
Amrita Vishwa Vidyapeetham, Coimbatore
Instructions to Volunteers
Amritavarsham 65 is a once in a lifetime opportunity for each and every one of us to engage in selfless service and earn divine grace. 
We, AMRITA Coimbatore campus students and staff have been assigned the responsibility of the food serving for the devotees, who will be coming from all over the world for AMMA's 65th birthday celebrations (Amritavarsham 65) through 75 food counters. 
All student Volunteers are required to apply for Gate pass with "Volunteer of Amma's Birthday" as reason for the pass.
All student volunteers need to wear Uniform  27-9-2018
All volunteers should carry their ID cards.
As a volunteer, you are requested to be present for food serving activities as per the instructions from by the Group Leader (Faculty In-charge).
Each department has been assigned a specific number of counters depending on the number of volunteers.( see counter allocation chart)
Each food counter needs around 15 volunteers - 7 for food serving, 4 for plate washing & plate collection and 4 for crowd control.
The department co-ordinators will assign the counter-wise distribution of student volunteers with faculty in-charges for each counter
Please be present in time during the shifts allotted by the staff in charge and serve wholeheartedly.
As a volunteer, please be polite to all people you serve and always share responsibility by rising to occasion.
Inform the group leader (Faculty In-charge), whenever you move away from the group. Do not venture into places, which are unfamiliar to you.
Be on time for the work.
Attend all the meetings arranged by your group leader and get a clear picture of the activity that is assigned to you.
Collect the Mobile number of your Group leader and contact him/her for any help or clarification.
Accommodation for all the Boy students and Gent faculty & staff from Coimbatore campus is arranged in the Boys Hostels of Amritapuri Campus and in the Girls Hostel of Amritapuri campus for Girls and Ladies. Your Department In-charges will guide you in this regard.
You have to bring sufficient dresses for 3 days including your travel.  It is advisable to carry one blanket and bed sheet also.
Do not carry any costly gadgets and keep your belongings safely under your custody.
There shall be a meeting with all student volunteers on the previous day of activity. Your group leader will inform the timings and venue of this meeting.

AMRITAVARSHAM 65- Food Counter Distribution

Date & Session
A (12 Counter) @ Pandal
B (12 counter) @ Pandal
C (16 Counter)@ Pandal
D (20 Counter) @ Pandal
E (12 Counters) allotted to ASE Bengaluru
Ashram side (15 counters)
26 - Breakfast

NA

NA

AE + CE + ASCOM + MATHS + ADMIN + HOSTEL + Phys. Edu [10]

NA

SCI + CHE + MSW + ENG + Amrita Vidyalayam [22]

26 - Lunch

NA

NA

AE + CE + ASCOM + MATHS + ADMIN + HOSTEL + Phys. Edu [10]

All counters

SCI + CHE + MSW + ENG + Amrita Vidyalayam [22]

26 - Dinner

CSE [30]

ECE + ICTS + CEN + CYBER [16]

EEE + MECH [20]

All counters

ADMIN + HOSTEL + Phy.Edu + ICTS + ASE Banglore + Amrita Vidyalayam [22]

27 - Breakfast

SCI + CHE + CSE + Amrita Vidyalayam [40]

ECE + HOSTEL + ICTS + CEN + CYBER [16]

EEE + MECH [20]

All counters

MSW + ADMIN + Amrita Vidyalayam [5]

27 - Lunch

SCI + CHE + CSE + ENG + Amrita Vidyalayam [24]

ECE + ADMIN + HOSTEL + ICTS + CEN + CYBER [16]

AE + EEE + MECH + CE + ASCOM + MATHS + ADMIN [20]

All counters

MSW + ADMIN + Amrita Vidyalayam [5]

27 - Dinner

CSE + Amrita Vidyalayam [30]

ECE + ICTS + CEN + CYBER[16]

AE + EEE + MECH + CE [20]

All counters

HOSTEL + ADMIN + Amrita Vidyalayam [5]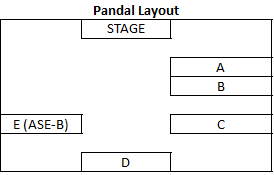 Downloads: